For any doubt clarification during form filling , Call us @ 9718707000
Fee Can be paid in instalments*
Registration Charge Rs 25,000 
No Additional Consultation charges are there.
Account Type – Current Account
Bank Name – HDFC Bank
Account Name – WET Institute
Account No. – 50200042402246
IFSC No. – HDFC0001067
GPay / Phonepe/ Paytm - 9599707000
To make payment using credit card, kindly call us @ 9718707000.
PS : Kindly share the screenshot of transaction with transaction ID with us during submitting your documents in form.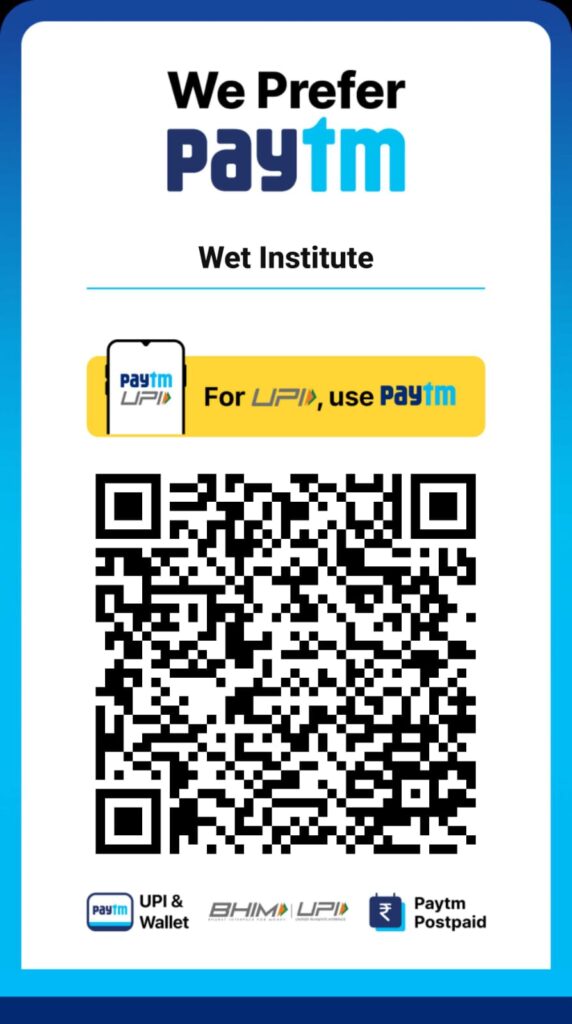 received a very good service from my tutorial staff. He's very helpful and responsive. He explains things well. I liked it that I took this course online because I was able to do everything in my own time and it was easier for me to complete all the assignments. The course contents are precise and my tutor is knowledgeable.
"Supportive and Insightful"
I just wanted to pass on some formal feedback of my tutor, David. He was absolutely fantastic throughout the entire length of my study- prompt to reply to my questions, and always with detailed answers to help me further my understanding of the course work.
I just wanted to say, that I was provided with excellent support and information by Sumit Sir. He was really helpful and efficient, and I was always informed on the good things, bad things I had done in my work, and the things that I needed to do next. He was so useful and good during my time doing the MBA course.
I strongly recommend the WET Institute for Pharmacy course to everyone interested Medical Field! I can't tell you how happy I am with the course and what it has enabled me to do in my business. It's just amazing.
WET Institute is the best coaching center. their coaching is excellent and teachers are really well experienced. teachers is give attention to every student individually.their pattern of complecting syllabus is superb. the best thing is whatever they taught to their students they not even learn also they are able to explain further. the quality of time they give to their students is really appricating I must say this coaching center should be awarded for their best coaching
I had a great time doing this course and everyone involved in the ICI has made it a great experience. I look forward to doing more courses with you guys in the future and have been recommending you to everyone I know. Thank you for all the assistance and feedback, it has been delightful and very gratifying.
A very flexible and informative learning experience
WET allowed me an opportunity to further my education in a subject I would have had to go to university for. I appreciate the flexibility that WET has shown without sacrificing excellence…. WET has helped me feel comfortable researching, documenting and discussing any given topic.
No difficulties for me, I found everything was just right. Always had good feedback after handing in assessments with some good advice attached. I personally think it's good the way it is. I really enjoyed doing this course, it gave me a world of knowledge and it was a fun learning experience!
A very educative course
I really enjoyed my studies with WET. I benefited greatly from the convenience of correspondence study. You have helped me to continue my education during a very demanding time in my life.
The diploma, knowledge, and skills that I have acquired through WET Institute played a significant role in my achieving my position. The recruiting department of the firm I work for was quite impressed with the educational curriculum. Thank you ICI! You have given me the opportunity of making my dreams of becoming a paralegal a reality.
To be honest you cannot beat the services or the people that I have dealt with. I loved the business management course. I rely on what I have learnt in my course often.
I embarked on this journey a little over 24 weeks ago. As I progressed through every module my confidence grew and I learnt skills which have produced some breath taking photos. I never knew I would enjoy assignments so much.
Excellent experience they provide the good service and their way of talking and behavior and also their way of guidance about Education
I wasn't able to leave my full time job to study so distance learning suited me best. I was able to set my own timetable and submit assessments around my own commitments. Had it not been for the flexible nature of the course I would not been able complete my studies!
Having left full time employment to have a child I was a 'stay at home mum'. I really wanted to find a way of turning my writing skills into an income. The WET Institute journalism course allowed me to become a freelance journalist and earn an income on a flexible basis. I was able to work at my own pace without the pressure of deadlines.
I am student of your Institute batch 2018-2020 has got 1st Position in D Pharma . final year. Thank you Winsoft for your wonderful support, teaching and Co-operation. And I also thanks to all Teaching staff as well as Admin staff..they are all so cooperatives and help full. Once again thank you Winsoft...from my inner core of heart..😙😙😚
It has been a great journey. Staffs were very supportive and ready to help at all times. Even They help me to correct all my mistakes during the course. All the adequate information was given to make our work easier on time. Best Teaching Institute in Delhi
Winsoft Technology is a very good educational institution. I have completed my B Pharmacy and M Pharma through this institute. This institute introduced me to some excellent and very talented teachers and helped me a lot during my journey. I got to learn many new things in this educational institute.
I've done my 2 years D Pharma course successfully from wet institute and all thanks to Lalit sir, he's a great human being ! Thank you 🙂
Overall, it was a good experience mist of the tutors were friendly and considerate. If the materials are more organized, it would have helped me a lot or if they are put together that would have been much better, saved time and confusion.
WET Institute even assisted in finding me a job. The course is wonderfully done and I really enjoyed it. Best of all you not only provided me with valuable training and knowledge BUT you even assisted me in finding the job of my dreams via your job search service. Thank you so much.