NTT Admission Delhi, Haryana, Punjab | NTT Admission 2023-2024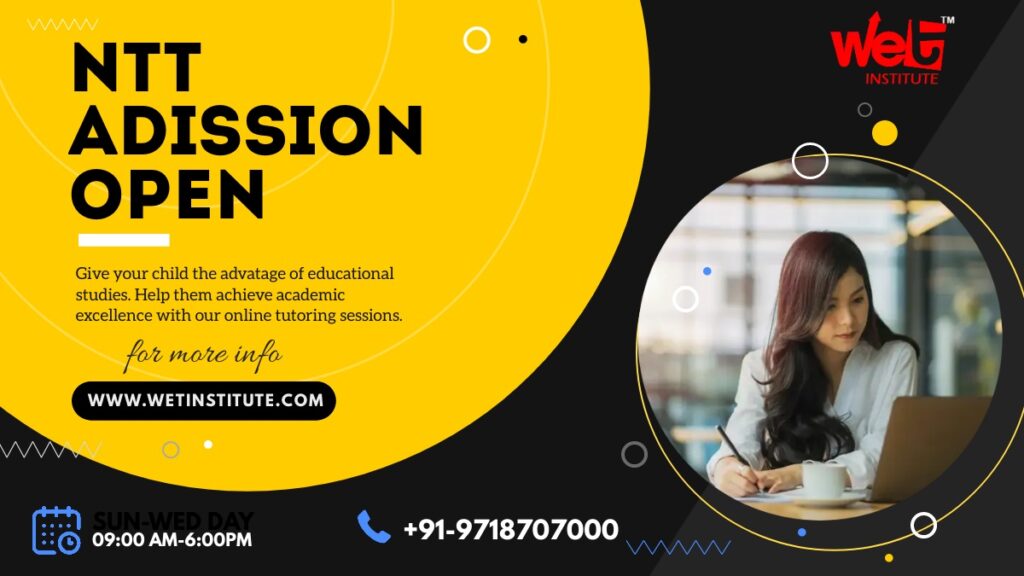 Delhi, Punjab, Haryana - Nursery Teacher's Training (NTT) Regular*, Eligibility, Duration, Fee Structure, Syllabus & Registration
NTT Admission Open 2023-2024
Apply Now for One Year NTT Nursery Teacher Training Diploma Course 2023-2024 Session.
The Nursery Teacher Training NTT course is a certificate course for the individuals who need to educate and finish the nursery stage or pre-essential level understudies. In the wake of following through with this tasks, applicants are prepared in regions, for example, kid training, showing technique, nursery level, preschool subjects and correspondence. If you likewise have any desire to create your future in the field of schooling then you can do Nursery Teacher Training Diploma Course. You ought to apply before the last date of confirmation, so your affirmation isn't lost. To get any data connected with Nursery Teacher Training Diploma Admission or you have any inquiry, then, at that point, you can straightforwardly approach the number given beneath or fill the request structure. On doing nursery instructor course by us, you will be given course related concentrate on material and now and again you will be given data and help connected with the course.
Record Required for NTT Admission
tenth, twelfth Certificate and Marksheets Photocopy.
4 Passport Size photos.
Aadhaar Card Photocopy.
Affirmation Form. 
Looking for information on NTT Admission 2023? Find out everything you need to know about NTT Admission, Eligibility, Fees and Registration here !
Qualification for NTT Admission
1 Year: tenth Pass/2 Years: twelfth Pass/Advanced NTT : twelfth + 1 Year NTT
Certificate/Diploma
Passing Assurance.
NTT Online/Offline/Self Study Mode Learning.
Simple Online/Offline Exam Pattern.
Printed copy Study Material.
NTT Student ID Card.
Online Verification.
NTT Online Admit Card/Hall Ticket.
NTT Online Result.
Simple Learning Pattern.
Profoundly Qualified Teachers and Counselors Panel.
In excess of 650 Study Centers Across India.
Legitimacy in All Types of Jobs and Self Employment.
Age Limit for Nursery Teacher Training Course:
There could be no upper age limit for signing up for a NTT course.
Other Teaching Diploma Courses: PTT/NPTT/ECCE/Advanced NTT/PG Diploma in NTT/PETT/PHTT/PPTT and so on.